Bloodstone
Bloodstones - Quality Gem Blood Stone Loose Gemstones for SALE Now at AfricaGems.com
Pretty Loose Bloodstone Gemstones for Bloodstone Rings- Largest Online Selection - FREE Shipping
featured item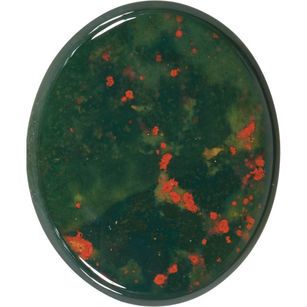 Bloodstone Oval Buff Top in Grade AAA
This Natural oval buff top genuine Bloodstone gemstones in Grade AAA, displays a dark green background matrix with well defined flecks/spots of red (as image shows). Amount of red spots/flecks can vary between bloodstone gems. This bloodstone gemstones has a Good Cut, Good Polish and Good Shape. This Bloodstone Gemstone Has Not Undergone Any Treatment. Bloodstone is sourced from India.
NOTE: Be sure to select the RIGHT gemstone/diamond by millimeter size only. Selecting your gemstone/diamond by carat weight is NOT ACCURATE. The best way to select the right size gemstone/diamond is to consult with a local jeweler to measure your setting or gemstone.
CLICK HERE FOR A SIZE CHART TO PRINT OUT (*Please set your PDF viewer to 100% for accurate results).
$18.00