>
>
>
CABOCHON TOURMALINE GEMSTONES
CABOCHON TOURMALINE GEMSTONES
Beautiful Pink Tourmaline Cabochons - Green Tourmaline Cabochon Gemstones for SALE
featured item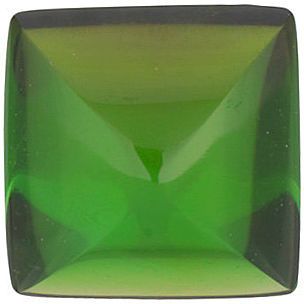 Grade AA - Square Genuine Green Tourmaline 3.00 mm to 6.00 mm
This Natural Green Tourmaline Gemstone in the AA Grade, Displays a Vivid Medium to Dark Yellowish Green Color, Has a Clarity Grade of Slight Imperfections, with a Medium Dome, Good Polish and Good Proportions. This Green Tourmaline Gemstone Has Been Heat Treated..
NOTE: Be sure to select the RIGHT gemstone/diamond by millimeter size only. Selecting your gemstone/diamond by carat weight is NOT ACCURATE. The best way to select the right size gemstone/diamond is to use our size chart image or consult with a local jeweler to measure your setting or gemstone.
CLICK HERE FOR A SIZE CHART TO PRINT OUT (*Please set your PDF viewer to 100% for accurate results)
Please contact us if you have any questions.
NOTE: The carat weights of the Grade AA, Sized From Green Tourmaline Square calibrated gemstones listed here are only approximate weights. The actual carat weight of the Square Green Tourmaline you receive can be more or less than the listed carat weight. Calibrated Square shaped Green Tourmaline Gemstones are based on dimensions, not carat weight.
NOTE: The image is highly magnified and enlarged. All imperfections that might be seen in the image, are in most cases not visible to the eye when viewed in normal lighting conditions.
NOTE: Calibrated standard sized gemstones/diamonds are very carefully graded by our grading experts, so that every Grade AA, Sized From Green Tourmaline is very similar and virtually identical in color, clarity and cut. The image you see is not the actual gemstone you will receive, but one chosen by professional grading experts.
$16.00