Rings
Shop Gold Ring Mountings - Huge Selection of Gold Ring Mounting - Platinum Ring Mountings - Large Selection at AfricaGems
featured item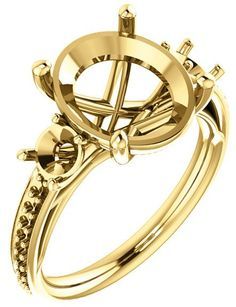 Oval 3-Stone Engagement Mounting for 6.00 x 4.00 mm to 12.00 x 10.00 mm Center Gem, 2 Round Sidegems - Customize Metal, Accents or Gem Type
This Brilliant Engagement Ring Mounting Features a 4-Pronged Buttercup Head Supporting the Centergem, Which is Flanked by 2 Round Sidegems. Pave Diamond Accents Add Some Bling Along the Band.
CUSTOMIZE THIS MOUNTING
AfricaGems offers you the unique ability to customize this mounting by selecting from more than 17 different metal types, you can also select diamond accents or colored gemstone accents from more than 30 quality and color options as well as select a center gemstone (or leave unset) and even choose a matching band!
Just click on the "Customize Your Mounting" link and you will be redirected to the AfricaGems showcase site. After you customize your mounting and add it to the Add to Cart button, AfricaGems will contact you for your delivery and payment details.
NOTE The beautiful luster and shine of a high polish finish in jewelry mountings may create optical illusion white or dark/black spots and areas, or uneven coloring when a mounting is photographed. Single dimension photographs cannot accurately display the true beauty and luster of a jewelry mounting.
NOTE A completed customized flex ring with diamond accents and/or gemstones is non-returnable, as it has been custom made just for you. If you so desire, the unfinished mounting and loose gemstone can be sent to you FREE of charge for your inspection and approval prior to commencement of the flex custom ring process.
$450.00