By Shape
Huge Selection of Jewelry Settings for Loose Standard Size Gemstones - 14kt White & Yellow Gold Prongs & Bezel Set Gemstone Settings
featured item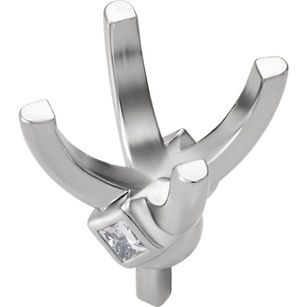 Gorgeous Partially Set Diamond Accented 4-Prong Setting for a Princess Shape Gemstone Sized 4.50 mm - 6.00 mm
Customize This Peg Style Diamond Accented 4-Prong Mounting With a Square Shape Gemstone Sized 4.50 mm - 6.00 mm. Two 1.50 mm Princess Shape Diamond Accents Are Bezel Set in the At the Base of the Prongs.
***If you would like to set an AfricaGems gemstone in this setting please specify which gemstone from your order you are selecting in the comments section at checkout.
NOTE: The very facets that create the beautiful sparkle in a loose gemstones or gemstones set in jewelry may create optical illusion white or dark/black spots and areas, or uneven coloring when a gemstone is photographed. This effect also applies to photographing highly reflective metals such as gold. Single dimension photographs can not accurately display the true beauty and life in a gemstone or gemstone jewelry. This Genuine Gemstone Jewelry must be seen in person to be appreciated.
$210.00