>
>
>
CABOCHON SAPPHIRE GEMSTONES
CABOCHON SAPPHIRE GEMSTONES
Cabochon Sapphires for SALE - Perfect Loose Cabochon Sapphire Gemstones in Stock
featured item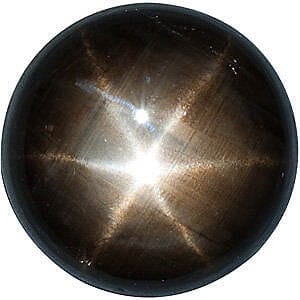 Black Star Sapphire Round Cut Gems in Grade AAA
This Black Star Sapphire, in the AA Grade, Displays a Even Charcoal Grey-Black Color and a sharp, evenly centered and bright 6 ray star (with light). It has excellent proportions with a good polish and medium dome. This Natural Sapphire Gemstone Has Undergone No Treatment of Any Kind.
NOTE: Be sure to select the RIGHT gemstone/diamond size by millimeter only. Selecting your gemstone/diamond by carat weight is NOT ACCURATE and will most likely be the wrong size. The best way to select the right size gemstone/diamond is to consult with a local jeweler to measure your setting or gemstone.
CLICK HERE FOR A SIZE CHART TO PRINT OUT (*Please set your PDF viewer to 100% for accurate results).
$15.00