>
>
>
CABOCHON CITRINE GEMSTONES
CABOCHON CITRINE GEMSTONES
Golden Yellow Citrine Cabochon Gemstones for SALE - Cabochon Citrine Gemstones for SALE
featured item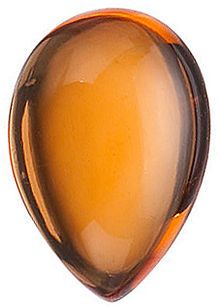 Cabochon Pear Genuine Citrine in Grade AA
This Grade AA Golden Citrine gemstone will display a beautiful golden to slightly orange color of a medium tone (as image shows). ?These citrine gems have been faceted to a very high professional lapidary standard and have a very good make, polish and symmetry. It has a clarity rating of Eye Clean Plus (VS), meaning that it can have very minute inclusions that can only be seen with the aid of a microscope. All of our Citrine gemstones have undergone traditional heat treatments. Citrine gemstones are primarily sourced from Brazil and Bolivia.
NOTE: Be sure to select the RIGHT gemstone/diamond by millimeter size only. Selecting your gemstone/diamond by carat weight is NOT ACCURATE. The best way to select the right size gemstone/diamond is to consult with a local jeweler to measure your setting or gemstone.
CLICK HERE FOR A SIZE CHART TO PRINT OUT (*Please set your PDF viewer to 100% for accurate results).
$11.00