Yellow Sapphire
Yellow Sapphire - Beautiful Canary Yellow Sapphires - Loose Yellow Sapphires Are Available at AfricaGems
featured item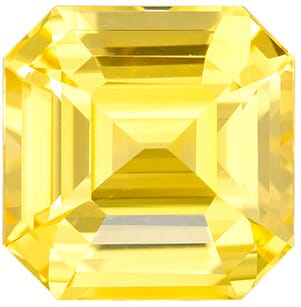 Bright Untreated GIA Genuine Yellow Sapphire Gemstone in Emerald Cut, 3.04 carats, Medium Pure Yellow, 8.03 x 7.94 x 5.04 mm
Bright & Lively Untreated GIA Certified Genuine Loose Yellow Sapphire Gemstone in Emerald Cut, 3.04 carats, Medium Pure Yellow, 8.03 x 7.94 x 5.04 mm Sapphire Gemstone Displays A vivid medium pure yellow, very diamond looking, excellent clarity, cut and life. A beautiful stone in a highly requested shape and size, very bright and lively, unheated with a GIA cert. A super find.
Note For A Personal Detailed Description Of Gemstone Please Contact Us And It Will Be Quickly Provided To You.
Note The Very Facets That Create The Beautiful Sparkle In A Gemstone May Create Optical Illusion White Or Dark/Black Spots And Areas
Note: Be Sure To Select The Right Gemstone/Diamond By Millimeter Size Only. Selecting Your Gemstone/Diamond By Carat Weight Is Not Accurate. The Best Way To Select The Right Size Gemstone/Diamond Is To Use Our Size Chart Image Or Consult With A Local Jeweler To Measure Your Setting Or Gemstone.
$4,264.00

Yellow Sapphire Pairs

18 Available
---