Garnet - Spessartite
Spessartite Garnet - Stunning Mandarine Loose Orange Garnets Gemstones on SALE - Selection at AfricaGems
featured item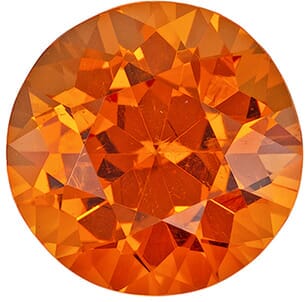 Xtra Special Rare Genuine Loose Spessartite Gemstone in Round Cut, 4.5 carats, Mandarin Orange, 9.6 mm
Wonderful Rare Genuine Loose Spessartite Gemstone in Round Cut, 4.5 carats, Mandarin Orange, 9.6 mm Spessartite Gemstone Displays A vivid intense open medium orange, Mandarin color, excellent clarity, cut and life. A beautiful stone inn a very hard to find shape and size, very bright and lively. A wonderful rare find.
Note For A Personal Detailed Description Of Gemstone Please Contact Us And It Will Be Quickly Provided To You.
Note The Very Facets That Create The Beautiful Sparkle In A Gemstone May Create Optical Illusion White Or Dark/Black Spots And Areas
Note: Be Sure To Select The Right Gemstone/Diamond By Millimeter Size Only. Selecting Your Gemstone/Diamond By Carat Weight Is Not Accurate. The Best Way To Select The Right Size Gemstone/Diamond Is To Use Our Size Chart Image Or Consult With A Local Jeweler To Measure Your Setting Or Gemstone.
$6,120.00

Heirloom Spessartite

44 Available

Spessartite Pairs

10 Available