>
>
>
Round Cut - Calibrated
Round Cut - Calibrated
Buy Quality Round Cut Emerald Gemstones - Gorgeous Loose Round Emeralds Available at AfricaGems for Sale
featured item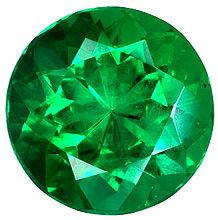 Round Diamond Cut Genuine Emerald in Grade AAA
Grade AAA Emerald Gemstones in Round Diamond cut display a beautiful vibrant medium dark intense electric green color with a very good precise Diamond cut, good polish and have a clarity grade of "very slightly included." They are of a very fine quality, better than the image shows. Our emerald gemstones have been traditionally enhanced with colorless oil to improve the emerald's appearance. This grade is not always in stock, please inquire. Our emeralds are sourced in Brazil and Zambia.
NOTE: Be sure to select the RIGHT gemstone/diamond by millimeter size only. Selecting your gemstone/diamond by carat weight is NOT ACCURATE. The best way to select the right size gemstone/diamond is to consult with a local jeweler to measure your setting or gemstone.
CLICK HERE FOR A SIZE CHART TO PRINT OUT (*Please set your PDF viewer to 100% for accurate results).
$29.00