Purple
Beautiful Synthetic Gemstones in All Shades of Purple Color - Best Purple Imitation & Created Gemstones for SALE
Loose & Affordable Purple Colored Non Genuine Gems - FREE Shipping
featured item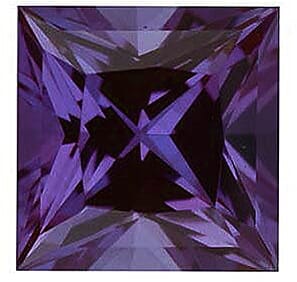 Chatham Lab Alexandrite Princess Cut in Grade GEM
Any Custom Size Available - 3-4 Week Lead Time - $390 per carat finished weight - Enquire Here.
This fiery very popular genuine Chatham Created Alexandrite in a traditional princess cut gemstone in Grade GEM displays dramatic 100% color change from a tealish green color in daylight and a pinkish purple color in incandescent light very slightly bluish intense Alexandrite green color of a medium-dark tone .
Genuine Chatham gemstones mimic their mined gemstone counterparts in all respects, appearance, refractive index, optical characteristics, hardness and all other physical properties. It is the finest grade that Chatham offers. It has been faceted to a very high professional lapidary standard and has a very good make, polish and symmetry. It has a clarity rating of Eye Clean Plus.

$13.00