Tourmalinated Quartz
Unique Tourmalinated Tourmaline Gemstones - Loose Standard Size Tourmalinated Quartz for Jewelry
featured item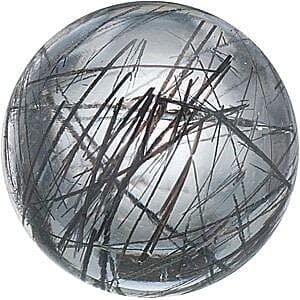 Tourmalinated Quartz in Grade AAA Round Cut
This Enchanting Natural Tourmalinated Quartz Round shape Cabachon Gemstone in the AAA Grade is Colorless with Visible Black Tourmaline Needles, with a Good Cut, Good Polish and Good Proportions. This Quartz Gemstone Has Not Undergone Any Treatment.
NOTE: Be sure to select the RIGHT gemstone/diamond by millimeter size only. Selecting your gemstone/diamond by carat weight is NOT ACCURATE. The best way to select the right size gemstone/diamond is to consult with a local jeweler to measure your setting or gemstone.
CLICK HERE FOR A SIZE CHART TO PRINT OUT (*Please set your PDF viewer to 100% for accurate results).
$22.00