>
>
>
COLOR CHANGE GEMSTONES
COLOR CHANGE GEMSTONES
Magical Color Changing Gemstones for SALE - Gorgeous Alexndrite and Color Change Garnet
featured item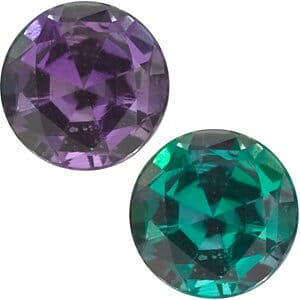 Genuine Round Cut Alexandrite in Grade AAA
Grade AAA Genuine Alexandrite Gems in round cut will display a tealish fine green color of medium deep tone in daylight and a fine pinkish purple of medium-deep in incandescent light. The degree of color change can be described as excellent or on a percentage scale of approximately 90%. Alexandrite stones will display Internal inclusions can only be seen with very good lighting and will not be seen in normal lighting conditions. Our Natural Alexandrite Gemstones are not subjected to any treatments of any kind. Our Alexandrite gemstones are sourced from Brazil, not India.
NOTE: Be sure to select the RIGHT gemstone/diamond by millimeter size only. Selecting your gemstone/diamond by carat weight is NOT ACCURATE. The best way to select the right size gemstone/diamond is to use our size chart image, or consult with a local jeweler to measure your setting or gemstone.
CLICK HERE FOR A SIZE CHART TO PRINT OUT (*Please set your PDF viewer to 100% for accurate results).
$79.00

Color Change

1 Available