BLACK GEMSTONES
Chic Black Gemstones for SALE - Gorgeous Black Gemstones for Jewelry
featured item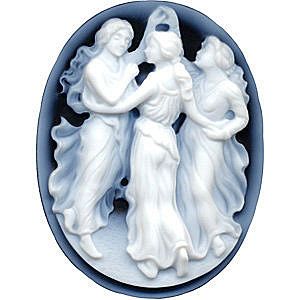 Black Agate Cameo Three Ladies
This Natural Black Agate Cameo Gemstone, Displays a Feminine Shell Carving With a White Face on a Black Oval, Facing Left or Right, With a Good Cut, Good Polish and Good Shape. This Cameo Gemstone Has Been Enhanced Using a Standard Treatment Called "Dyeing" Where a Coloring Matter is Introduced into the Gemstone to Intensify and Improve the Color.
NOTE: Be sure to select the RIGHT gemstone/diamond by millimeter size only. Selecting your gemstone/diamond by carat weight is NOT ACCURATE. The best way to select the right size gemstone/diamond is to use our size chart image or consult with a local jeweler to measure your setting or gemstone.
CLICK HERE FOR A SIZE CHART TO PRINT OUT (*Please set your PDF viewer to 100% for accurate results).
$60.00