>
>
>
AMETHYST - Calibrated
AMETHYST - Calibrated
The Amethyst SuperStore Best Selection of Fine Natural Calibrated Gem Amethysts
featured item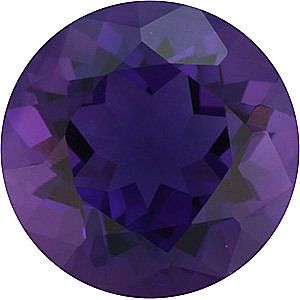 Genuine Round Cut Amethyst in Grade AAA
AfricaGems has in stock natural round shaped faceted Grade AAA Genuine Natural Amethyst Gemstones. This is the finest grade available in natural Amethyst in standard calibrated sizes. These fine Amethyst gems will display a bright pure purple color of rich deep tone (as picture shows). These gems have been faceted to a very high professional lapidary standard and have a very good make, polish and symmetry. It has a clarity rating of Eye Clean Plus (VS), meaning that it can have very minute inclusions that can only be seen with the aid of a microscope. Our genuine Amethyst gemstones have undergone traditional heat treatment. Amethyst gemstones are sourced from Uruguay or Brazil.
NOTE: Be sure to select the RIGHT gemstone/diamond size by millimeter only. Selecting your gemstone/diamond by carat weight is NOT ACCURATE and will most likely be the wrong size. The best way to select the right size gemstone/diamond is to use our size chart image or consult with a local jeweler to measure your setting or gemstone.
CLICK HERE FOR A SIZE CHART TO PRINT OUT (*Please set your PDF viewer to 100% for accurate results).
$12.00

Amethyst Briolette Cut Gems
$24.00
---